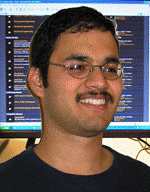 Aditya Mittal
Email: this domain name @ gmail . com
ScientificChess Research Scholar, Author, and Web Developer
Date of Creation: Tuesday, June 29, 2004
Last Update: Saturday, April 2008
NOTE: Due to system switching, a lot of typographical errors arose in this document. Most have been fixed, but some might have escaped, they will be fixed as they are found.
Intro
Flying in magnificent airplanes, walking the rocky roads, playing masterfully in ice and snow, fighting hot winds with a passion, glowing in the dark, and exploring the mines of knowledge, a traveler Aditya began his journey in Pilani, India and spent the first few years of his life in New Delhi where a song of accomplishment began. Bright as Aditya* as a first grader the baby became renowned for his handwriting, artistic, and linguistic ability, thanks to his mother, Meenakshi Mittal. Prizes like coloring books and colored pencils came like water. Father, Rakesh Mittal, on the other hand, taught him chess, brought new toys for him everyday, and took him for walks holding his finger. Thanks to the graceful god for a lovely little sister, Anudha also. At age seven, the family moved out of the capital into Palam Vihar, Gurgaon along with the boy's grandparents, uncles, and aunts. Expectations rose, competition was faced but staying afloat the sun like boy made his way through the skies. After completing fourth grade, a tall wave brought him to the U.S. where a series of travels erupted from Indianapolis. The sun shone radiantly everywhere from SantaFe, New Mexico to Fairfax, Virginia to Tulsa, Oklahoma to Springfield, Oregon, to Atlanta, Georgia to Pittsburgh, Pennsylvania to Randolph, New Jersey to Marlton, New Jersey, to Fairport, New York to Westborough, Massachusetts, and now Syracuse, NY. These being merely the places of abode, the authentic stories of the travels are a saga in the self, ever so slightly touched by the first line of this paragraph. Presently, Aditya has completed a double major in physics and computer engineering and is pursuing graduate studies in Computational and Mathematical Engineering at Stanford University.
* Aditya in Sanskrit refers to the sun.
education
ICME, Stanford University, Stanford, CA n 2009
M.S. in Computational and Mathematical Engineering
B.S. in Physics (from The College of Arts and Sciences)
B.S. in Computer Engineering (from L.C. Smith College of Engineering and Computer Science)
As a whole the program is a 5 year Combined Degree in Physics and Computer Engineering. I have completed it in 4 years of actual attendance.
Westborough High School, Westborough, MA: High School Diploma. Completed 11th and 12th Grades.
Fairport High School, Fairport, NY: Completed 10th Grade.
Cherokee High School, Marlton, NJ: Completed 9th Grade.
Travel
I have lived in India and 12 different U.S. Cities in all different regions and states allowing me to interact with many cultures. I went to elementary school in India and then many middle schools and three high schools in the U.S.
awards and certificates
· "Most Dedicated" – Awarded at NY state level debate of Model United Nations for UNESCO in Syracuse, NY n 2000
· "Outstanding Delegate" – Awarded at NY state level debate of Model United Nations for Rochester's Conference Environment Program, NY n 2000
· "Roman Life and Customs Honorable Mention" – Junior Classical League, NY n 2000
· "English Derivatives from Latin" – Junior Classical League, NY n 2000
· "Greek and Roman Mythology" – Junior Classical League, NY n 2000
· "Latin Vocabulary" – Junior Classical League, NY n 2000
· "Principal's Recognition" – earned 2 times through nominations by the teachers Dr. Perez, Mr. Bieg, and Mrs. Green, Fairport, NY n 2000
· "All- County Recognition in Math" – Math Team, Monroe County, NY n 2000
· "New York State Math League participant" – Math Team, NY n 2000
· "Fairport High School Math Team" – Math Team, NY n 2000
· "National Science Olympiad Excellence" – Regional Science Olympiad Tournament, NY n 2000
· "National Science Olympiad Excellence" – State Science Olympiad Tournament at West Point Academy, NY n 2000
· "All-American Scholar" – United States Achievement Academy n 2001
· "Who's Who Nomination" – Who's Who Among American High School Students n 2001 n 2002 n 2003 (earned 3 times)
· "Tau Beta Pi recognition" – Tau Beta Pi (The Engineering Honor Society) n 2001
· " III Place in Biology" – Academic Decathlon n 2001
· "National Leadership and Service Award" – United States Achievement Academy n 2002
· "National Commemorative Certificate" – United States Achievement Academy n 2002
· Semi-finalist for "Merry Advice Live Your Day Joyously" – http://www.poetry.com/ n 2002
· Semi-finalist for "Aging Changes Perspective on Life" – www.poetry.com n 2002
· Semi-finalist for "Abandoned Love" – www.poetry.com n 2002
· Sound of Poetry - "Abandoned Love"– Poetry.com (1 of 33 winners for best sounding poetry to be recorded on CD) n 2002
· Editors Choice Award - "Abandoned Love" – www.poetry.comn 2002
· Many invitations to poetry.com symposiums/awards n 2002-2003
· "New England Regional Science Bowl Excellence" – New England Science Bowl n 2002
· "Science and Technology Fair" – Expressing Sound Emphatically n 2002
· "Certificate of Achievement: Astronomy" – Westborough High School n 2002
· "AP Scholar with Distinction" – AP Exams in Biology, Chemistry, Calculus, American History, and English n 2001-2002
· Syracuse University Chancellor Scholar $8000/year at Syracuse – Syracuse University n 2002–Graduation
· Syracuse University Scholarship $4000/year at Syracuse – Syracuse University n 2002–Graduation
· "Westborough Civic Club Scholarship of $500" – Westborough Civic Club n 2002
· "The National Dean's List" – National Academic Affairs n 2003 n 2004
· "Dean's List" – L.C. Smith College of Engineering and Computer Science for n Fall 2003 n Spring2004 n Spring 2005 n Spring 2006 n Fall 2006 n Spring 2007
· CPR Certification – American Heart Association from Marlborough Hospital, MA n Summer 2004
· OSHA Chemical Hygiene Plan Certification – Syracuse University, NY n Spring 2005
· High Scholarship in Physics – Sigma Pi Sigma – National Physics Honor Society Syracuse University Chapter, NY n Spring 2005
· IBM ODF Challenge Runner Up Award (iPod nano) – IBM Corporation n Fall 2006
· Most Innovative Project of the Year on "Multitouch Interaction Game Table" Senior Design Project – $500 Award by IEEE at RIT – 7th Annual Student Design contest – participants from northeast US and Canada (IEEE regions 1, 2, and 7) n Spring 2007
· Excellence in Physics Award – Awarded by Physics Department at Syracuse University n Spring 2007
· Guerrila Marketing Prize – Awarded at Stanford University Innovation Tournament in Entrepreneurship Week sponsored by Deloitte n Winter Quarter 2008
WORK experience
Website Design and Programming:
Writing
Author of the book - Fierce Game of Foolish Geniuses

Content Research Writing - "Safety Issues – An electronic magazine" See http://safetyissues.com

n

Present

n

Author articles on living safely for the Safety Issues magazine.

Content creator at http://whackpedia.com